Kali ini kita akan merambah pada bagian ke tiga dari keseluruhan tutorial
James Pond's
kita.
Langsung saja tanpa tedeng aling-aling,
Agan/Sis
silahkan.. di perbolehkan untuk membuak aplikasi
Photoshop
nya... tentunya
kupi
dan
ruti
sudah siap.. jangan lupa untuk menyantapnya di pinggir
kulem
agar terasa lebih
nya'nyoi
.. :(
Langkah 5 - Menyambung Ruang Kosong di antara Tutup sama badan Botol
Hahahah.. aneh juga jika di translate ya kata-kata
Fix the Gap
pada
postingan aslinya
:p. Tapi tidak mengapa. Santai saja. Langsung kita tengok pekerjaan kita sebelumnya... di sana terdapat sebuah jarak (sangat tipis) antara
Body
botol sama
Tutup
nya. Sekarang kita akan memodifikasi agar
gap
tersebut tertutup rapih.
Pertama-tama siapkan dulu
Foreground
dengan warna
#9fa5b0
. Lalu buat sebuah
Layer Baru
di atas
Layer Background
. [Semoga saja langkah ini tidak membingungkan dan semoga juga
Agan/Sis
konsisten, karena jika tidak, sudah dapat di pastikan akan sedikit tersesat karena panjangnya
tutorial
ini hingga saya bagi menjadi
4
post]. OK.. Buat sebuah
seleksi
seperti yang saya lakukan pada gambar berikut :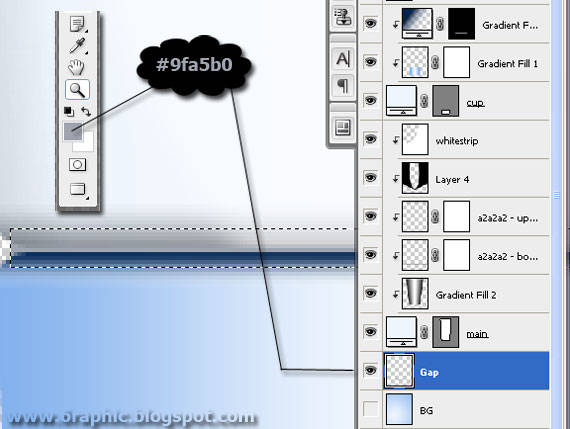 Langkah 6 - Reparasi Tutup Botol
Setelah
Agan/Sis
berhasil menutup
gap
tadi, sekarang kita akan kebagian tutup botolnya.
First thing first
, untuk langkah ini, saya akan meletakkan
Dua Buah Garis
pada
Dua Buah Layer
(yang berbeda tentunya*). Tekan
Ctrl + N
untuk membuat sebuah
Layer Baru
, Gambar sebuah
garis
. Hal ini bisa
Agan/Sis
lakukan dengan bantuan tombol
U
pada keyboard untuk memanggil tool yang tersedia di sana. Pilih
Line Tool
dari menu yang disediakan (pajaknya siapa yang tanggung?!?! :p). Langsung
tarik sebuah garis
layaknya gambar berikut bisa
Agan/Sis
lihat :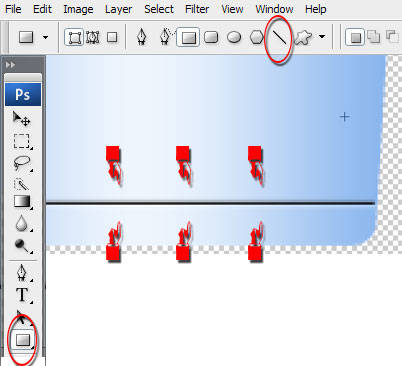 Tambahkan style pada Layer ini dengan meng-klik kanan layer yang dimaksud pada palette layer.. lalu silahkan pilih
Blending...
cari
Bevel and Emboss
.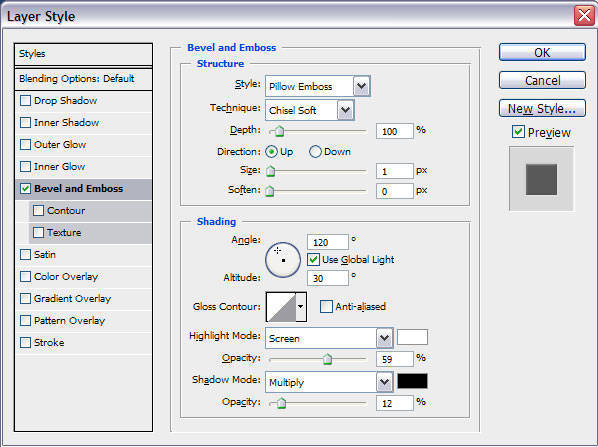 Sekali lagi
Agan/Sis
akan saya antarkan pada penggunaan
New Fill or Adjustment Layer
. Perhatikan Palette Layer
Agan/Sis
.. tekan tombol
New Fill
yang saya maksud tadi (seperti langkah-langkah sebelumnya) lalu isi dengan warna
Biru Terang
(
#74a8eb
) seperti yang saya pakai. Selesai?!?!
Duplikasi
garis tadi dengan cara menekan
Ctrl + J
! Juga jangan lupa meng
kopi
(menduplikasi) Layer Style-nya.. yakni si mbah Bevel and Emboss tadi bukan?!?! :p. Sekarang kita punya
Dua Buah Garis
pada
Tutup Botol
kita bukan?!?
Perhatikan : Jika Garis tersebut masih berhimpitan pada posisinya.. Silahkan Agan/Sis menggeser salah satunya dengan bantuan tombol V pada kibor Agan/Sis.
Untuk lebih jelasnya, kini sekarang kita sudah memiliki
Dua Buah Garis
dengan warna
Biru Terang
#74a8eb
yang menutupi layer secara keseluruhan.. Untuk membuat warna tersebut menyatu dengan
Garis
yang kita buat tadi, silahkan lakukan
clipping mask
pada ke duanya.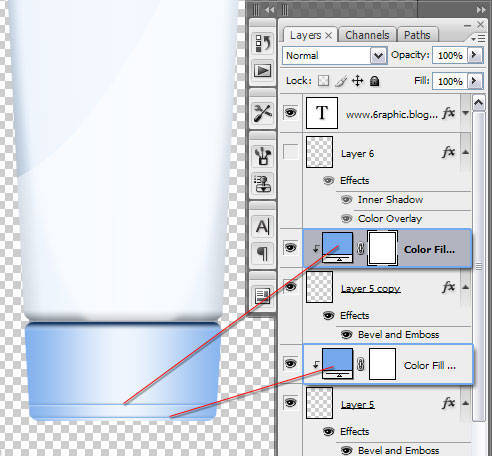 Sekarang saya akan mengatakan supaya
Agan/Sis
hirup terlebih dulu kopi hangatnya sebelum kita lanjut (seperti yang sering di kampanyekan salah satu kandidat*). Wkwkwkwk.. Lanjut
Gan/Sis
!!! Sekarang saya akan menambah
coakan
pada tutup botol kita. Apakah itu
Coakan
?!?!? Hohoho.. itu loh
Gan/Sis
.. kaitan pada
tutup botol
yang fungsinya sebagai pembuka, kaitkan jari kita di sana, lalu botol tersebut terbuka :) Kira-kira seperti itulah
Gan/Sis
. :p Ribed naa.. :p
Untuk itu, lakukan langkah berikut : Dengan menggunakan
Rounded Rectangle
(my favo) tool (
U
), set seperti yang saya lakukan :
Inner Shadow
bisa Agan/Sis pilih sebagai Layer Style, Blend Mode :
Multiply
, color :
#2469c2
, Opacity :
75%
, Angle :
-90
, Distance :
2px
, Choke :
0%
, Size :
2px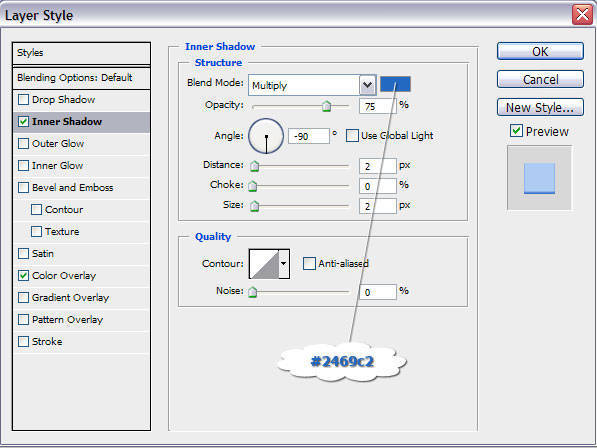 Lalu sebagai tambahannya...
Color Overlay
as a Layer Style, Blend Mode :
Normal
, Color :
#adccf3
, Opacity :
100%
Jika semua langkah tadi
Agan/Sis
ikutin satu-persatu, maka kira-kira,
botol
berikut tutupnya akan seperti ini, atau menyerupai ini... atau jauh dari ini
Gan/Sis
:p ?!?!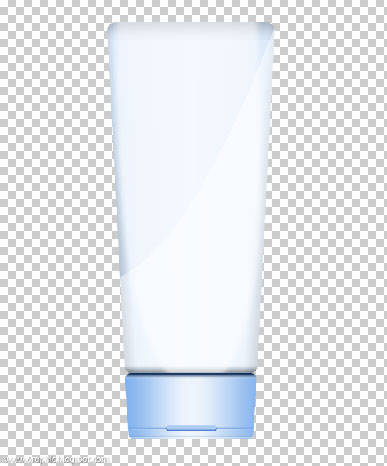 Complete tutorial :
James Pond's 1
,
James Pond's 2
,
James Pond's 3
,
James Pond's 4
.